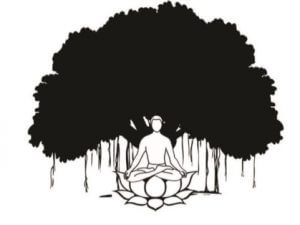 Demystifying Yoga
With Sattya Yoga – Light in your Life
Rishikesh INDIA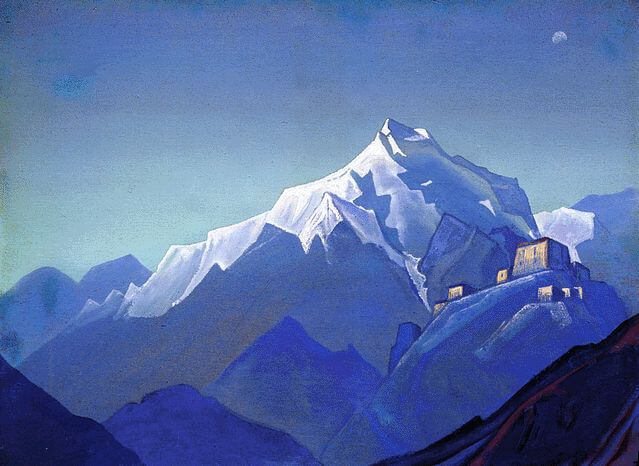 Eevate Your Self…………..
Fix Departures
  December 2021,
20-21th April 2020 20th December 2021
Join a life time trip trekking to the heart of Himalayas to highly energized &, vibrated places and the birth place of yoga. The Yoga was conceived here by the Adi Yogi – lord Shiva, and was later spread in the different parts of India and the world. We practice the Yoga at the same energized places for some extra ordinary experiences of Body, Mind and soul. Join Rajeev – Founder of Sattya Yoga for the special purposeful eternal Journey to your higher inner self in these parts of High Himalayas starting from Rishikesh – the world capital of Yoga.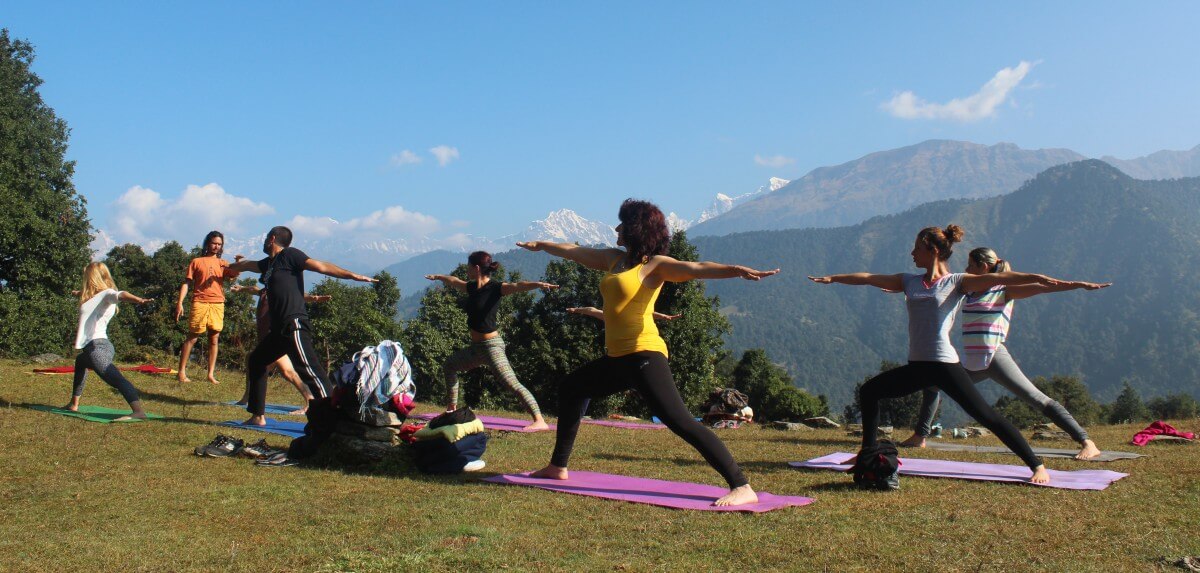 Early morning Yoga at the camp Sites.  Yoga Trekking with Sattya Yoga
Reflection of High Himalayan Peaks in Devria Tal lake . Camping on the trek.
Enjoy 6 nights and 7 days Yoga & Trekking trip to the heart of Himalayas. The highlights of the Yoga & Trekking trip are
• Drive through Ganga and Mandakini Valley all along the Ganges and mandalkini riers
• Visit to Okhimath, the winter seat of lord Kedarnath
• Trek to Devriatal, one of the finest high altitude Himalayan Lakes
• Trek to Tungnath, one of the highest lord Shiva temple in India.
•Trek to Chandrashilla, the best ventage point to witness the major peaks of the area e.g
• NandaDevi, Bander Punch etc.
• Drive through Kedar nath Musk deer Sanctuary of Nanda Devi National Park, the highest
• park in India , to encounter rare Himalayan Flora & Fauna.
• A close encounter with the settlement pattern, dress, jewellery and life style of the mountain people.
• Daily yoga for Extra Ordinary Experiences with Body, Mind & Soul
•Daily morning Sattya Yoga Life Changing Sessions & Meditation.
• Daily Evening Sattya Yoga Life Changing Sessions for higher awareness & Consciousness.
Itinerary
Day 01. Arrive Rishikesh.
Arrive Rishikesh and transfer to our Best Located Sattya Yoga Retreat High Bank Peasants Cottage. Early evening meet the Yoga teacher and proceed for a 90 minutes Sattya Yoga Class. After the class enjoy a a cup of Herbal tea on the terrace with Ganga View. After spending some quality time with yourself in silence enjoy home grown Home cooked meal with lot love & pure energy.
The day is closed after the next day's briefing. Overnight High Bank.
Overnight at High Bank Peasants Cottage.
DAY 02. Early Morning cup of tea followed by Sattya Yoga session for 90 minutes. Breakfast.
After breakfast relax or go for optional Ayurveda Massage & wellness Treatment.
Early Evening visit the Ghat's s to encounter evening Ghat life as well as special Arti "The Prayer dedicated to Goddess Ganges" " the town of ashrams and temples, Ghats and pilgrims, mountains and the holy Ganges. When global orange sun suspended, waits low amid the red/yellow streaked horizon, then all these combine to give this town a very special evening. The temple bells roar, priests enchant mantras. Immersed in sublimation stand the pilgrims. Cupped leaves, with saffron marigold petals and a small candle flame, flickering ride the current of water of wisdom. Suddenly the sky darkens, spreading a blanket of stillness. Everything stops, except the sound of current, which has just sunk the tiny flames of cupped leaves, few minutes back. After experiencing above we trace ours steps back to the hotel. Dinner and overnight Sattya Yoga Retreat.
Day 03 RISHIKESH/OKHIMATH / DOGAL BITA
DRIVE 6-7 HRS. WALK 1 – 2 HRS .OVERNIGHT CAMP
Early Morning cup of tea followed by Sattya Yoga session. Breakfast. After breakfast drive to Okhimath, the winter seat of lord Kedarnath. The entire drive today is along the Ganga, Alaknanda and Mandakini river. We stop at Devprayag, the historical town situated on the banks of for the famous confluence of Bhagirathi and Alaknanda river .We stop at Rudraprayag for lunch. After lunch we drive through the Mandakini Valley along the river . Arrive Okhimath, the winter seat of lord Kedarnath. Visit the temple of Okhimath through the small hill town & Drive to camp at Dogal bitta.
Dinner and overnight camp..
DAY 04. DOGAL BITTA /SARI /DEVRIATAL /SARI DOGALBITTA DRIVE 2 HRS TREK 4-5 HRS. OVERNIGHT CAMP
Early Morning cup of tea followed by Sattya Yoga session. Breakfast. After breakfast we drive to SARI, arrive and commence trek to Devriatal, one of the best high altitude Himalayan Lakes. Initially the trek goes through the village trail, giving you a chance to have a close encounter with the settlement pattern, dress, jewellery and life style of the mountain people. Later the trek goes through the thick forest. On the last stretch we come close to the tree line to reach the lake. Enjoy the outstanding view of Greater Himalayan peaks in the lake. Explore the area and trek to Sari, the typical Garhwali mountain village. We join the village women carrying heavy loads of dry leaves for their fields.
Trek down to road head drive to camp .
DAY 05. DOGALBITTA/CHOPTA/TUNGNATH/ DOGALBITTA DRIVE 01 HR TREK 6-7 HRS. OVERNIGHT CAMP
Early Morning cup of tea followed by Sattya Yoga session.
Breakfast. After breakfast trek to Chopta. After a cup of tea we commence trek to Tungnath. The entire trek is a gradual ascent through the dwarf Rhododendron bushes. One encounters Mt. Chukhmba (A mountain with four Pillars) from different angles. Lunch. Those who are fit enough can climb up to ChandraShilla . Arrive Chandrashilla . Enjoy the 360 degrees of panoramic view of Greater Himalayan Peaks as well as the valley behind. Experience the godly vibrations and trek back to camp. Dinner and overnight camp.
DAY 06. DOGAL BITTA /CHOPTA / MUSK DEER FARM / SHIVPURI
DRIVE 01 HRS TREK 1-2 HRS DRIVE 6-7 HRS
Early Morning cup of tea followed by Sattya Yoga session.
After breakfast walk to Kedarnath Musk Deer sanctuary. Arrive and commence drive to Rishikesh. We drive through the thick forests of sanctuary till we reach mandal. Later we drive along the roaring Alaknanda river . Lunch enroute.
Arrive Shivpuri and check in to Yogada – In the Himalayas – A Sattya Yoga Retreat.
Evening short meditation on the banks of the Ganges. Cleansing fire ceremony followed by dinner.
DAY 07. Early Morning cup of tea followed by Sattya Yoga session.
After breakfast drive to shivpuri for special rafting run with safety Kayaks & dukkies. Today we raft down from Shivpuri to Muni Ki Reti ( 17 Kms). We hit good morning, return to sender, Roller Coaster, Golf Course and Club House , Initiation, Double Trouble, Hilton & Terminator. One can try cliff Jump and body Surfing on this section. Try a hand on Dukies (Inflatable Kayak) near the camp. In the later part we float past temples and ashrams and Ghats enjoying the river bank life along the Ganga. Arrive Rishkesh and transfer to High Bank for wash and Change. Home cooked lunch .
One can opt for Ayurvedic Massage if not going for Rafting.
After lunch Tour terminates.
One can drive to Delhi or board train / flight for Delhi in the evening
Package Cost – Yoga & Himalayan Encounter with Chandrashilla Summit
Special Tariff :  499 USD Per person
The package costs are inclusive of :   
1.Twin sharing *accommodation as per the itinerary.You can also opt for single Occupancy with a Supplement cost of USD 99 in total .
2. Sattya Yoga Sessions as per the Itinerary.
3. All meals during the entire trip- from Dinner on day 01 till lunch*on day 07.
4. Transportation from Rishikesh to Rishikesh by Toyota jeeps
5. Services of English Speaking trekking guide during the entire trip.
6. Portage of 01 piece of personal rucksack (10 Kgs) on the trek.
7. Trekking permits & fees on the trek.
8. Portage of camping equipment, food, kitchen equipment on trek.
9. All tourist taxes on the trip.
10. Visit to the entire place as per the itinerary.
The Package costs Do Not Include:   
1. Items of personal nature e.g table drinks, telephone, insurance, medical services, evacuation        and services in landslides & Unforeseen circumstances.
2. Riding ponies on the trek.
3. Services other than specified above.
The Package costs are :     
 1. Subject to GST which is at present 18 %
2. Nett & non commissionable.
3. Valid for trekking season of 2020.
Number of Persons on the trek: Minimum 04 members are required to run any of the fix departure trips .To ensure low impact treks & personalised services Maximum number of person on any trip goes to 09.
Package Tariff – The above package tariff is for standard option. You can also opt for deluxe option with better transport, accommodation, meal options & highly professional staff on the trip. Please let us know.
Food on the trek: We emphasize on clean and hygienic meal s on the trek. Breakfast & Dinner are full hot meals. Lunches are picnic lunches as we driving or trekking that time.
Water on the trek: we carry ample of bottled water in the jeep which can be used for the driving days. For the trek we use boiled stream water, which is equally good or some time better.
Your accommodation in Rishikesh before & after the trek: We have our own best located guest house in Rishikesh , which you can use before and after the main trek. Please visit us to get the details www.highbank.in
Your Travel to Rishikesh – As we have a fleet of cars & jeeps, we shall be happy to provide you pickups from Delhi & Dehradun Airport. We shall also help you arrange you flight or train tickets from Delhi to Haridwar & Dehradun.
First Aid on the trek: we carry a good first Aid Kit on the trek, however it is recommended to carry your own specific requirements.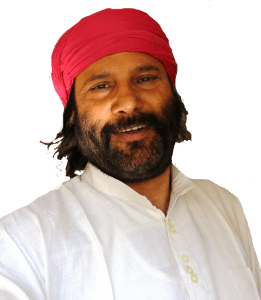 Rajeev Tewari : Founder – Sattya Yoga – Himalayas
MSc (Organic Chemistry) & PGD in Himalayan Tourism
Born in a Brahmin Family in Himalayas Rajeev is has started his career as research Scientist after his post-graduation in Organic Chemistry & PgD in Himalayan Tourism. He is still heading the pioneer & Leading Adventure Tours & Travel company the – Garhwal Himalyan Explorations Pvt. Ltd with its base in Rishikesh.
Rajeev also heads the two of the Sattya Yoga Retreats .i.e High Bank Peasants Cottage in Rishikesh, & Ashram Yogada in Shivpuri Himalayas.
Despite of his busy schedule yogi Raj Jeev spends most of his time in exploring the new Dimensions of Hatha Yoga – the ancient art of wisdom, which was born in this part of Himalayas.
Yogi Rajeev is widely travelled throughout India & abroad and sees life from a different perspective. He also takes classes in Yogada and directs the operations.
Rajeev is also the president of the Uttarakhand State Tourism Operators Association – UFO and fights for the right of local operators in the area.
Rajeev is :
-Senior Yoga Teachers – RYT 500 with International Yoga Alliance USA
– Senior Yoga Teacher – Yoga Alliance UK
– Member Senior Yoga Therapist – International Association of Yoga Therapists (IAYT)
– Director – Yogada in the Himalayas -Recognized School International Yoga Alliance USA
Sattya Yoga Partners for Trekking Arrangements are :
Garhwal Himalayan Explorations Pvt. Ltd.
The pioneer Tour operator in Himalayas for individuals & groups
About us
Garhwal Himalayan Explorations is a pioneer company specialized in trekking, rafting, Yoga Retreats, & Yatra (Pilgrimage) tours in Uttarakhand. Handling maximum number of foreign and domestic tourists coming to Uttarankhand (Garhwal) Himalayas for trekking, rafting, pilgrimage, yoga retreats & special interest tours, GHE has its own fleet of brand new cars, jeeps, and mini buses with latest world class rafting & trekking equipment.
GHE has its own hotels & best located guest houses camps & Retreats, and do not sublet its clients to other operators. GHE has
● World Class Rafting & Trekking equipment.
● High Bank Peasants Cottage : Best located hotels and guest houses in Rishikesh www.highbank.in
● Ganga Nature Camp – Rafting Beach at Brahmpuri.
● High Bank Himalayan Retreat On the Ganges – Eco Resort Shivpuri where luxury is blended with pure nature www.himalayanretreat.in
● Himalayan Heights – High Himalayan camp amidst thick cedar forest with breathtaking view of 180
Degrees view of the Himalayan peaks.
● Fleet of brand new cars and jeeps.
● Above all -Team of dedicated experienced professionals working with the company for more than 28 years.

                      Safety first Adventures in Ultimate Eco Friendly Environment
Garhwal Himalayan Explorations Pvt. Ltd
Himalaya House , Tapovan – 249192. Rishikesh
(Garhwal Himalayas) Uttarakhand (India)
Call Us: 0135-244 22 67, 244 26 67, 2442888
Fax us : 0135 -244 244 5
E Mail: info@rishikesh.in garhwalhimalayas@gmail.com
Active Member
To preserve Ecology & Environment / To ensure highest safety standards in its operation Garhwal Himalayan Exploration is Active member of
Government of Uttarakhand
Registered & permitted by Tourism & Forest Deptt. As White water Rafitng & Camping Operator in Uttarakhand

UFO – Uttarakhand's Finest Outdoors The State Tourism Outfitters Association